Infographic: How Marketers are Managing the Evolving B2B Business Buyer's Journey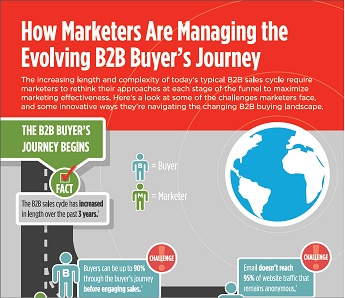 While doing some research, I came across this infographic from Bizo and Eloqua: How Marketers are Managing the Evolving B2B Business Buyer's Journey.
Lately I've been seeing way too many infographics where the publishers apparently threw a bunch of statistics at their designers without much thought given to story-telling.  But I think the authors and designers at Bizo and/or Eloqua did a great job of combining facts, words and graphics to lead you to the conclusions they want in this infographic.
They use startling statistics to build the case for marketing automation in a very clear, linear way, and how they overcome each Challenge with a Solution leads you inexorably to craving those marketing automation tools they sell.  (Though playing on their road/journey metaphor, I might have positioned the challenges as "Roadblocks" — and there must be a way to shorten that title).
Kudos to the folks at Bizo and Eloqua for a job well done.
Got any samples of infographics you'd like to share?
Going Viral with Askers and Tellers
Welcome to my new blog. Every now and then I find some intriguing marketing information that's worth sharing. For starters, here's some research that may impact your dream of launching the next breakout viral marketing campaign.
An article by The Futures Company presents an interesting perspective. They describe how content relevance is a function of inbound 'asks' not outbound 'tells.' For example, Google uses the number of other pages pointing to a particular page, or 'asking' that page for information, to determine the page's relevance.
The article postulates that using mass media to activate the "askers" is more effective than trying to push your message out through key influencers ("tellers").  Here's an excerpt:
"Contagion happens because people are asking for it not because tellers are pushing for it. A breakout phenomenon satisfies what people are asking for, and once people are asking for it, anybody, not just highly influential tellers, can trigger a contagious outbreak of social influence."
We've been using a one-on-one, personalized communication model for so long, this mass media approach seems blasphemous, yet it makes sense as a part of your overall strategy:  Reach people with mass media to generate "asks" and they will seek out the story from you and your key influencers.
Ultimately it's all about the bottom line so if your mass media campaign generates a nice buzz that gets enough people seeking you out – as opposed to a global viral phenomenon – it can deliver a good marketing ROI. 
Read the article for more details let me know if you agree with their conclusions.  Also, don't forget to sign up for my RSS feed.
Liked this? Share it with your friends!